GAD: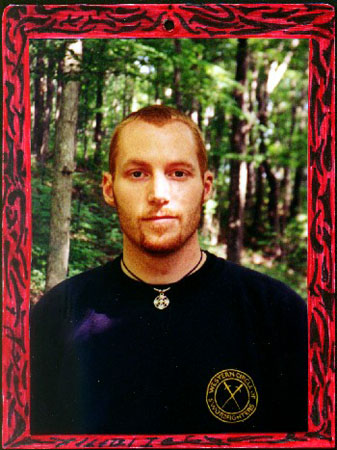 Email Address: gad@westerncircle.org


I am one of the original martial artists that helped found the Western Circle of Swordfighters. Over twenty years ago when I arrived in California, I began to gather fellow martial artists together to join in sword based competitions. At first, the events were few and far between, but as they increased in number and grew in size, so did outside interest in the art of the sword. Many of us had multiple years of hand to hand combat and traditional martial arts training, but few had found outlets for weapons combat. Eventually the other Kenjutsu instructors and I began to take on more students, who in time began to compete alongside us. The more we taught and they learned, the more there was a calling for a formal means of training outside of the existing organizations of fighting groups.

The Western Circle was born out the desire for a truly new full contact Kenjutsu form. A group of the three most experienced martial artists in the circle was formed and they decided on the initial set of training requirements. This brought more order and discipline to the loose network. These requirements followed the traditional rules and lessons from their many years of formal training. Soon my first school opened in the San Jose area and an opportunity for people of all walks of life was provided.

My ultimate goal is to provide a true, but moderately safe means of full contact sword combat for all who have the respect and desire to wield such an honorable weapon. For years now, I have extended the offer of learning to people of all walks of life who have the honor and respect it takes to learn the art of the sword. Today I teach only a select few whom I chose based on individual ability and respect.

Now that the WCoS has been around for more than twenty years, some of our Kaidens have taught worldwide. While we keep our numbers small, the friendship and respect of many other circles have helped shape the WCoS into what it is today.

My Beliefs:
I am Christian, and although I do not always succeed, I try to better myself with each passing day. "No right is lost, as long as someone remains asking for it."

The Person:
I have loved the sword since I could lift one. I stand all of 5'5" and weigh 155lbs. I have red hair and gray eyes. I come from distant Irish/German heritage and have had the pleasure of seeing much of the old world.

I have been training for over 30 years and teaching for more than 20 in hand to hand combat and weapons. I am most proficient with sword. My vow as a Kaiden is to teach all who have the heart and respect to learn; a goal I have been blessed to be able to provide. The term Kaiden was a term used in Japan when a teacher would provide a script to a student that had trained for many years. The script symbolized he had completed the most rigorous schooling and his training was complete. We take that tradition further and it is recognized as the right to pass that knowledge on, to teach.

I myself am a student as well, always learning from, and gathering knowledge from the field of combat. I prefer to fight steel, but I have fought in almost every form of sword combat, including: fencing, Kendo, bokken, SCA heavy weapons, and competed against many other martial arts studios in an attempt to broaden my knowledge and grow. I feel the teacher is ever the student and for a swordsman to grow, they must always seek improvement by testing their skill in environments that may not always be their own. I have also studied Aikido, Hapkido, kick boxing, Taekwondo, Jujutsu and Kenjutsu formally. I have learned much more from others personally. I have worked as professional personal defense instructor and teach with the same mindset. One must never give up and fight not only as hard as one can, but be willing to die to achieve victory if it means another may live.

"There is nothing between that which must be done and that which you can do."


Training Status:
March 2017: Passed a formal modern WCoS sword dancing test

2017: Currently working to complete the final portion of the Black Triad: the Black Ring

June 2014: Taken all parts of my WCOS Black Belt test and received rank

2012: Won the Best of the Best competition

2010: Won the Best of The Best – Champions Edition. For many years I dreamed of fighting the best fighters I had ever come across in training so I challenged each them and all prior Best of The Best Champions to fight me in one on one steel matches at this competition.

2010: Completed 50 days of training for the Best of The Best Champions Edition

March 2010: I completed the 30 Minute Non Stop battle and have met all the requirements as set by the Council to wear the Red Dalmater.

September 2010: I have completed a three month physical fitness contract with retired Expert Swordsman Joseph. This is known as the P90X. I did at least one hour of training every day for 91 days without missing a single session. I am now in the best physical condition of my life.

June 2009: I have completed my one year training contract successfully.

June 2008: I have begun a one year training block in a set of requirements that fall under the advanced Black Chain series. When completed I will have an additional 500 hours of logged practice and competition. I have signed a formal contract requiring a full year of uninterrupted training.

November 2007: My finger was severed in live steel sword combat on October 27,2007, while competing in the Coliseum. I was rushed to emergency surgery and it was reattached. (As of 2009 I have had two more surgeries and it is now fully functional)

2006: Actively pursuing the seventh level of steel.

December 2005 Update: I have named the personal sword style I have been working on for the past 15 years. This is the combination of my WCoS training and the many other martial art forms I have studied.
I call it "The Way of the Ever Adapting Blade".

October 2005 Update: As of October 16th, I have completed my Black Braid training.

June 2004 Update: As of June 1st, I have begun my Black Braid training . I have signed a formal contract requiring a full two years of uninterrupted training.

December 2003 Update: As of December 1st, I became Head Kaiden of the W.C.o.S.

November 2003 Update: As of November 1st, I have begun training again.

January 2003 Update: As of January 1st, I have stepped down.

November 2002 Update: I will be stepping down as Head Kaiden and leaving full time training in the WCOS on January 1st, 2003.

December 2001 Update: As of December 1st, I have passed my Level 7 Copper Chain Test and rose to the rank of Expert Swordsman. The test, though it was difficult, was truly an honor to be part of. 6 instructors took part in what was the most incredible test of swordsmanship I have ever witnessed. It was truly the beginning of my walk with the sword and now that I have a basic understanding of such a fine weapon of honor, I hope only to live up to what I have received.

November 2001 Update: I have now completed all the physical requirements expected of a swordsman in order to take the level 7 Copper Chain test. I took the 20 minute non-stop battle on August 23rd. I learned a lot, but the foremost lesson for me was that inner will and faith have a place on the battle field. I completed my twelve mile hike last Sunday.

October 2001 Update: As of October 25th, I have passed my Silver Chain STEEL Test.

October 2001 Update: As of October 4th, I have passed my Silver Chain test. In doing so I have completed all the requirements to be tested in the highest level of the circle.

June 7, 2001 Update: As of August 6th, I have taken and passed: my Green Braid evaluation, my White Rope test, my Red Rope test (and previously took RR2 test), and I have completed all my requirements except the 20 minute non-stop battle. I now hold the rank of a Red Rope 2 (L5).


| | |
| --- | --- |
| Battle Ratings and Stats | Updated 3/1/15 |

Years Fought
in excess of 30
Battles Fought
in excess of 10,000
Steel Battles Fought
5,000
WCoS Ranking
L7
Steel Ranking
L6
Opponents Fought
In excess of 400
Weapon Type
Two handed broad sword